Over the last year, we know many have grown accustomed to being confined indoors but Greer is looking to change that with old-time family fun outdoors.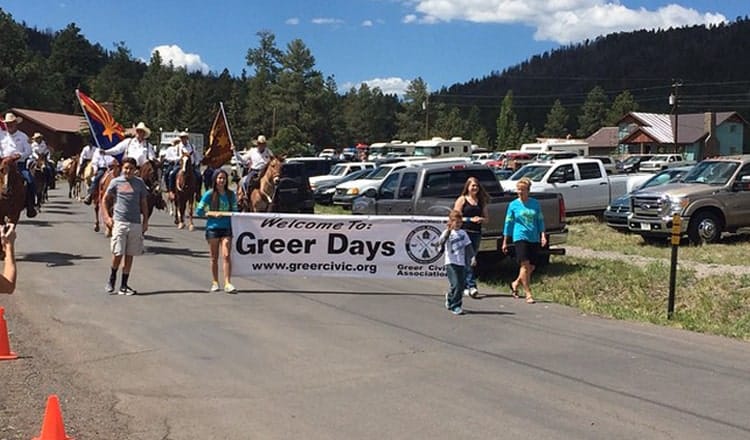 The village of Greer is excited to announce that it will be hosting the largest annual outdoor event once again – Greer Days 2021. The two-day event is scheduled for Friday, June 11 and Saturday, June 12, 2021 starting from 10am-4pm and welcomes everyone of all ages to participate in the most entertaining weekend in Greer, Arizona. While many worry about being outdoors in the Phoenix blistering heat, those visiting Greer can expect the complete opposite. At the state's highest elevation (and among the highest nationwide), Greer is positioned at 8,356 ft above sea level offering cooler temperatures in the upper 70's during the day and low 50's. Greer's delightful cool summer temperatures make for fabulous day out in the sun especially during Greer Days! With a barrage of activities including local arts and crafts, live music, traditional Lucky Duck race, boat race, children's games, delicious foods, street parade, 5k charity run and much more! Below is a list of the festivities set to take place at Greer Days 2021:
Wild West Shootout: Friday, June 11th (5pm)– Wild West shootout with the Greer Desperados at Molly Butler Lodge.
Parade: Saturday, June 12th (10am) – This is a Greer tradition evoking the good ol' days with horses and riders, Native American dancers, floats, antique cars and more family fun on Main Street in Greer. Apply to be in the parade here.
Silent Auction: Friday, June 11th (2pm–4pm) for preview. Auction June 12th 9 – 4 at the Greer Community Center.
Heavenly Vendor Village: Friday – Saturday 10am to 4pm – Exhibitors will offer arts and crafts, food, jewelry, clothes, photographs, paintings, furniture, toys, Greer Library Friends book and bake sale, ice cream social and more along Main Street and in the Greer Community Center. Enjoy the shopping and eats or apply here to sell your wares.
5K Fun Race: Saturday, June 12th (Morning) – More information and registration information is available at greerazcivic.org.
Lucky Duck Race: Saturday, June 12th (12pm) – Everyone loves the annual duck race at the Greer Community Center. Children and adults race toy ducks for fun and in pursuit of the big prize. Ducks are run in dozens of heats with prizes for the top winners. 1st Place: $150, 2nd Place: $100, 3rd Place: $50 Ducks are $3 each or 2 for $5. Buy as many ducks as you want in Greer or purchase your lucky ducks ahead of time online!
When staying in a cabin at the Greer Lodge, you are guaranteed a spot in the action as our cabins are right off Main Street where the Greer Days event will take place. Each year in preparation for Greer Days, the Greer Lodge cabins book extremely fast as this is an event that many don't want to miss.