Over the last year, we know many have grown accustomed to being confined indoors but Greer is looking to change that with old-time family fun outdoors.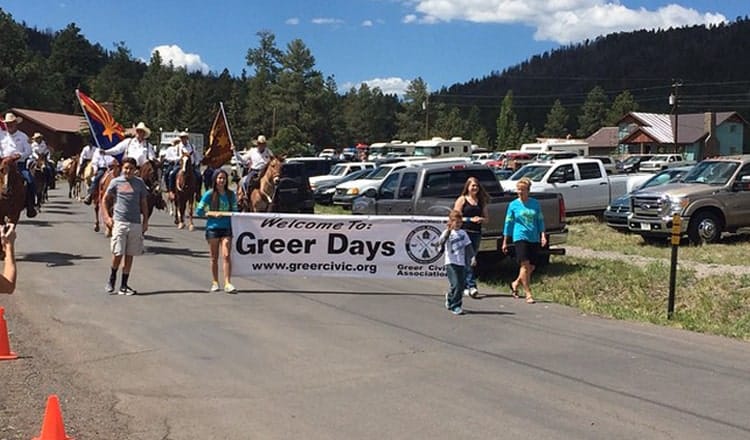 The village of Greer is excited to announce that it will be hosting the largest annual outdoor event once again – Greer Days 2021. The two-day event is scheduled for Friday, June 11 and Saturday, June 12, 2021 starting from 10am-4pm and welcomes everyone of all ages to participate in the most entertaining weekend in Greer, Arizona. While many worry about being outdoors in the Phoenix blistering heat, those visiting Greer can expect the complete opposite. At the state's highest elevation (and among the highest nationwide), Greer is positioned at 8,356 ft above sea level offering cooler temperatures in the upper 70's during the day and low 50's. Greer's delightful cool summer temperatures make for fabulous day out in the sun especially during Greer Days! With a barrage of activities including local arts and crafts, live music, traditional Lucky Duck race, boat race, children's games, delicious foods, street parade, 5k charity run and much more! Below is a list of the festivities set to take place at Greer Days 2021:
FRIDAY & SATURDAY, JUNE 11 & 12:
Friday, June 11
3 PM – 5 PM AZ MST – Silent Auction Item Preview at the Community Center: Visit the Greer Community to take an early look at items up for auction, including artwork, fly fishing lessons, and nightly stays in Greer and the Phoenix area.
5 PM – Opening Ceremony: The Greer Desperadoes help kickoff Greer Days with good old-fashioned western shootout in front of Molly Butler Lodging & Restauarant. Enjoy live music later that evening.
Friday, June 11
7 AM – 5K – Family Fun Run: The poopular race and walk begins and ends at River Reservoir. Registration is open at 6:30 AM. Online registration begins on May 13. Entry fee is $25 and then $15 for each additional family member. Each entrant receives a T-shirt, gift bag and finishing medal. Register by May 31 to make sure you receive a T-shirt. Proceeds with benefit the Dan E. Leeds Fire & Emergency Services Scholarship.
9 AM – 2:30 PM – Scavenger Hunt: Round up friends and family members and hear over to the Greer Community Cneter to register and join the fun. Entry fee is $10 per team with a surprise prize.
9 AM – 3 PM – Silent Auction: Place your bids on the many amazing items ups for auction at the Greer Community Center. Bidding ends at 3 PM sharp!
Noon – Lucky Duck Race: Adopt a toy duck and race for prizes. Ducks will be available for sale online starting May 13. They can also be purchased the day of the event, starting at 9 AM. The races will begin at Noon in front of the Greer Community Center. Ducks are $5 each or 5 for $20. Cash prizes for first, second and third place winners.
5 PM – 8 PM – Dancing and live music by Fat Chance: Join everyone at the Applewhite Pavillion (Butterfly Lodge Museum) for some great vintage music and dancing. Food and beverages will be available for sale.
When staying in a cabin at the Greer Lodge, you are guaranteed a spot in the action as our cabins are right off Main Street where the Greer Days event will take place. Each year in preparation for Greer Days, the Greer Lodge cabins book extremely fast as this is an event that many don't want to miss.