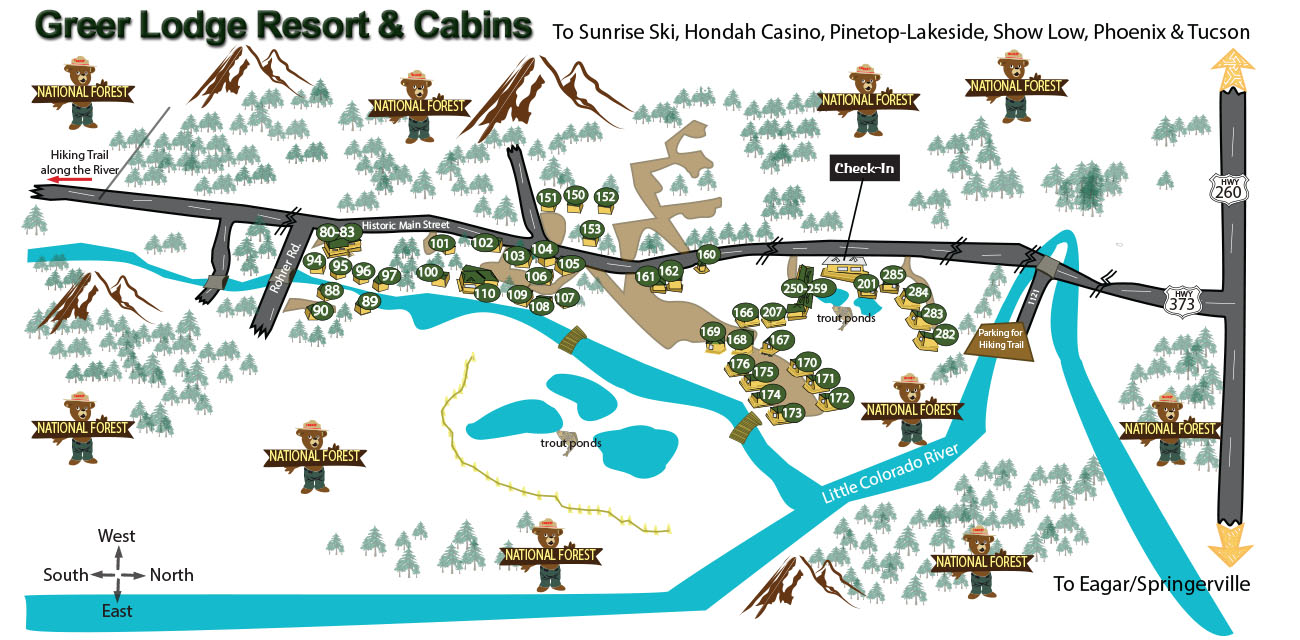 (Hover over image to zoom in or download lodging map)
You will not find a town more dog-friendly than Greer! Bring your BFF (Best-Fur-Friend) along and come kick back, relax, hike or take long walks alongside the Little Colorado River. Get away to Greer where you can enjoy the best of nature, a little mindfulness, breathe some fresh mountain air, unwind to the sounds of nature, and take in the glorious mountain scapes of our beautiful small village of Greer, Arizona.
With our selection of dog-friendly cabins going fast, make sure to call 928-735-2304 to book one of the following cabins as soon as possible for 2023 or 2024.
Each Cabin has a television with complimentary Satellite Direct TV and a DVD player.
Greer Lodge offers free WiFi, however, quality is not guaranteed.
All beds have great mattresses for your comfort.
Our cabins are "housekeeping" cabins, which means they feature kitchens, we provide the essentials you need to cook with, and the utensils you need to eat & drink with; but we do not provide coffee, toiletries, hair dryers or detergents, so be sure to bring your own. These cabins do NOT have a washer / dryer.
Our kitchens are supplied with the following types of items for cooking and service of meals: Cooking items, such as pots and pans; Utensils such as tongs, spatulas and ladles; Meal service items, including china, glassware & silverware. The number of items stocked in each cabin is in relationship to the maximum number of guests they are able to be reserved for based upon the bedding in each cabin. In addition to the basic cooking and service items noted above, some specialty use items are stocked in our housekeeping department and are available upon request and availability at that time. We suggest that if you intend on doing any cooking or baking other than basic meal preparation and service during your stay, that you bring those items along.
Some are "Dog Friendly" (additional fee of $20 applies per dog per night; maximum of 2 well behaved dogs not to exceed 50 lbs are allowed).