Once a year, visitors gather in the quaint mountain town of Greer, AZ to kick off summer in a unique way that only Greer can. With a Wild West shootout to start up the events, the weekend of June 9-11 will bring forth western history and outdoor fun in a wonderful, family-friendly manner.
After the afore-mentioned shootout on Friday, the spectacle will turn to a parade Saturday morning through the only street in town at 10 AM! Afterwards, there will be fun kids' activities and local crafts and artwork for sale along Main Street.
Greer Lodge will host a fun event on Sunday, June 11th, so be sure to stick around! Following a delightful barbecue of hamburgers and hotdogs at noon, the lodge will host a family volleyball tournament, featuring a free 2-night cabin stay at Greer Lodge as the Grand Prize for the winning family (September-May, excluding holidays and Spring Break).
Other fabulous activities include a horseshoe tournament for a Greer Lodge gift certificate and a fun castle jump house for kids! It's truly a special time of year to enjoy the town of Greer as it bustles with fun activities among the 8,300-altitude mountains of Northern Arizona. Additionally, it presents a great place for families to come explore nature and make new friends, just several hours drive from Arizona's largest cities. Be sure to mark the weekend of June 9-11 on your calendars as your time to explore Greer in such a fun, eventful way!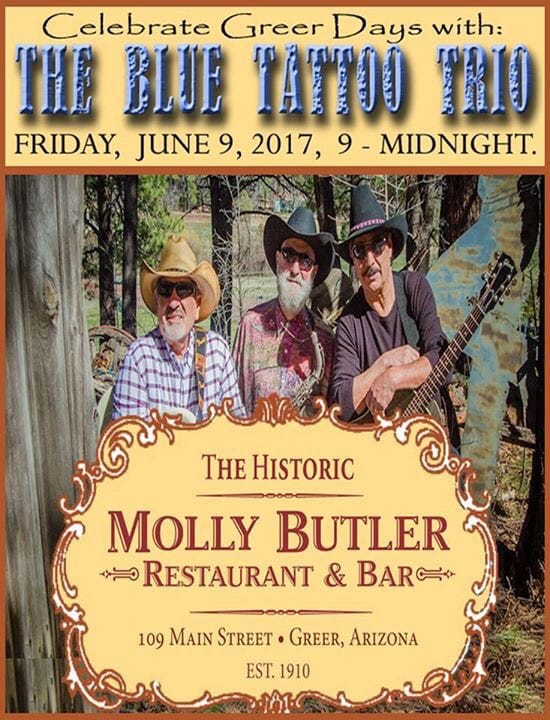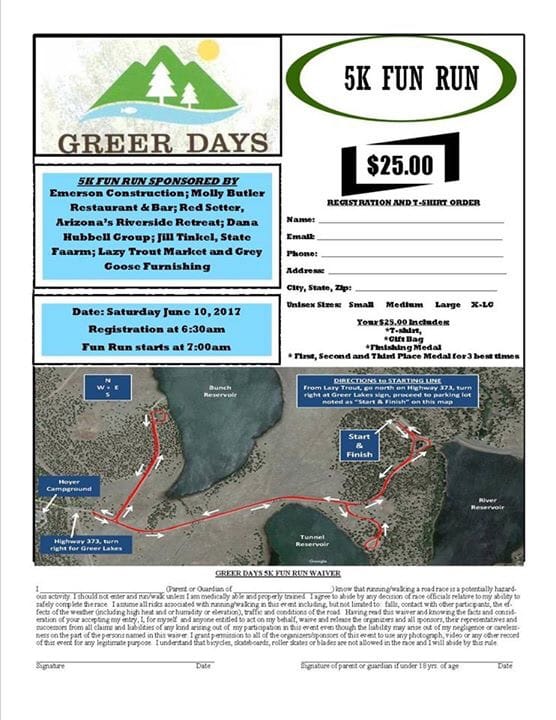 Opening Ceremonies
Friday, June 9th, 5 p.m.
The Greer Deperadoes ain't fooling around as they officially open Greer Days with a Wild West shoot-out at Molly Butler Lodge.
---
Old Fashioned Main St. Parade
Saturday, June 10, 10 a.m.
This is a Greer tradition evoking he good old days with horses and riders, Native American dancers, floats, antique cars and more on the Main Street in Greer, Arrive early to avoid the closure of Main Street. Enjoy the parade.
---
Heavenly Vendor Village
Friday and Saturday (9 a.m. to 5 p.m.), June 9 and 10
Exhibitors will offer arts and crafts, food, jewelry, clothes, photography, paintings, furniture, toys and more along Main Street and in the Greer Community Center. Enjoy the shopping and eats or apply to sell your wares.
---
Children's Games
Saturday, June 10, 10 a.m. to 5 p.m.
Round up the kids and heard to the field near 92 Beans coffeee and ice cream shop, 92 Main Street, for family fun.
---
Lucky Duck Race
Saturday, June 10, 1 p.m.
Everyone loves the annual duck at the Greer Community Center. Children and adults race toy ducks for fun and in pursuit of the big prize. Ducks are run in dozens of heats with prizes for the top winners. Buy as many ducks as you want and see who is the luckiest duck. Buy your ducks in Greer.
---
Greer Lodge Resort & Cabins
Sunday, June 11th, begins at noon
BARBQUE: 12:00 p.m.
FOODS: Barbecue (Hotdogs + Hamburgers)
VOLLEYBALL TOURNAMENT: The family that wins will receive a 2 night stay in a cabin that sleeps 6. Good for a stay in September 2017 to May 2018; excludes Holidays and Spring break.
HORSESHOE TOURNAMENT: The family that wins will receive a gift certificate that will apply to their next stay at Greer Lodge Resort & Cabins.
CASTLE JUMMPY HOUSE: for kids
Participate in various lawn games throughout the day!
Related links:
GREER DAYS 2015, GREERCIVIC.ORG
GREER DAYS 2016, USATODAY.COM