Some of the most enjoyable experiences with family members are had over the dinner table, as families enjoy sharing tasty meals together. And while many families on vacation prefer the convenience of eating out, Greer Lodge provides fully equipped kitchens in every cabin to handle your culinary needs! At our beautiful cabins in the mountains of northern Arizona, you'll be able to have the benefits of home cooked breakfasts and dinners in front of a marvelous view, while saving money on the food costs of your trip.
We focused on providing all of the essentials in our kitchens so that families have the space and tools required to craft an excellent meal. Kitchens include refrigerators, stoves, coffee maker, microwave, cookware, and tableware. Additionally, each cabin rental includes a comfortable dining room for serving meals, as well as additional outdoor eating space on our covered decks with fabulous views. Here is a list of each item included in our cabin kitchens, so you'll know what you may need to bring for specialty cooking:

Cups
Plates
Bowls
Silverware
Cooking Utensils
Pots, Pans, Baking Trays
BBQ's (propane provided)
BBQ Utensils
Ice Trays
Salt & Pepper
Coffee Maker & Filters (Coffee NOT provided)
Toasters
Paper Towels
Oven Mitts
Kitchen Towels
Each cabin is stocked with utilities according to the "Sleep to 4, 6, 8 or 12" size capacity. Greer Lodge Resort & Cabins are not meant to accommodate more guests than the allowed occupancy and it is recommended to rent a cabin that is suitable for your group size for maximum comfort during your stay.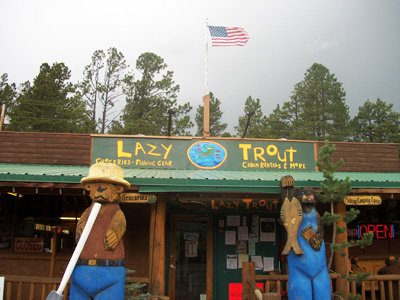 We also have additional utensils in our housekeeping department for specialty cooking available upon request and availability at that time. Also, note that the nearest grocery stores are roughly 20 minutes away in Eager-Springerville, or towards Show Low and Pinetop-Lakeside. You may want to stop by one of these grocery stores in these towns or stop in at the Lazy Trout Market located right off the 373 highway while heading into Greer to stock up for your stay.
At Greer Lodge Resort & Cabins, we want to offer a home away from home where you and your friends or family can enjoy rewarding experiences of nature together. And while the local restaurants like Rendezvous Diner and Molly Butler Lodge Restaurant & Bar provide fun going-out options, there is certainly something special about families sharing a home cooked meal together in the comforts of your very own cabin. Not only do our stocked kitchens help you save money while cooking in, you'll also enjoy those meals in from of the beautiful mountain views and serenity that Greer offers in the middle of the Apache Sitgreaves National Forest!
💡 Please get in touch for questions related to the exact specifications and contents of your cabin's kitchen, as they do vary from cabin to cabin.